Jun 10, 2009 by
Chip Reece
Comments Off
Posted In:
Reviews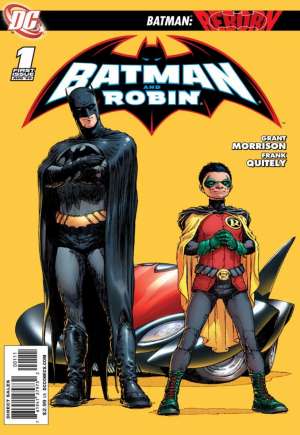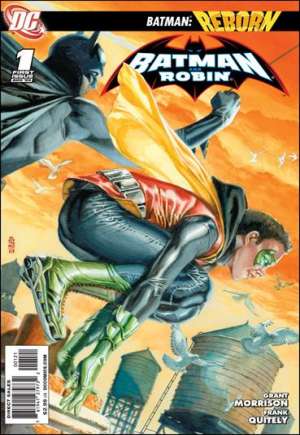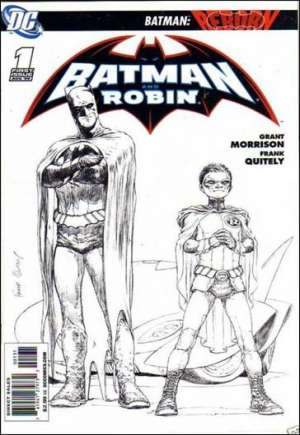 Regular Frank Quitely Cover                     J.G. Jones Variant                 Quitely Black & White Variant
DC Comics – August 2009 – $2.99 – 32 pgs – Color
Writer: Grant Morrison – Artist: Frank Quitely – Cover: Frank Quitely
Synopsis:  Fresh out of Battle for the Cowl the new Batman and Robin hit the streets in the new and improved Batmobile.  The issue introduces us to the new duo, and sets the tone for what their relationship is like.  We are also shown a villain, Pyg, who I believe has only been mentioned (not seen) back in Batman #666 for the first time.  He appears to have tools available to basically zombify and enslave people.
Review:  Good first issue to start the series off.  I like having Morrison back on a Batman title to ease the transition to the new Batman and Robin.  It will be a little difficult I think for long time Batman fans to get used to a "friendlier" Batman, but the arrogant overconfident Robin injects a good amount of "toughness" to bring a balance.  Thank you Morrison for not using the crutch of an overused regular Batman villain!  This Pyg guy seems to have a good amount of creepiness and derangement to fit in to the mold of Batman villain, but fresh enough to separate himself from the regular cast of villains.  I was advised to read Batman #666 as Morrison has stated he will be using elements from that particular issue in his Batman and Robin stories.  I really enjoyed Quitely's art duties on the book, and especially liked how he incorporated his sound effects into the action of some of the scenes.  The new Batmobile also looks pretty sharp…I think it's a perfect time to combine the flying and driving into one vehicle.
Story: 9.5 -Writing: 10 – Art: 9 – Quitely Cover: 9
Overall: 9.38

---
Comments are closed.