May 18, 2009 by
Chip Reece
1 Comment
Posted In:
Reviews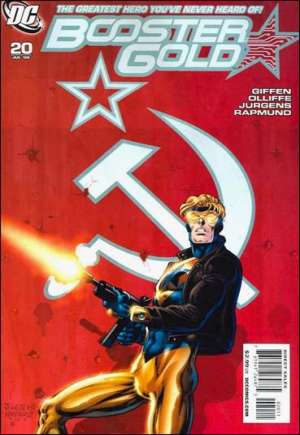 DC Comics – July 2009 – $2.99 – 32 pgs – Color
Writer: Keith Giffen – Art: Pat Olliffe – Cover: Dan Jurgens
Synopsis:  The story starts with Booster getting bored waiting for Rip to fix his time machine.  Booster decides he's always wanted to visit the 1950's, and Rip does not put up a fight due to his eagerness to get Booster out of his hair for awhile.  Booster quickly bumps in to an early version of the Suicide Squad calling themselves "Force X," and is immediately recruited to thwart a Cold War plot.  Booster discovers later the scientist involved is the original creator and father of Rocket Red.
Review:  I enjoyed that this takes place during the Cold War, but saw little to do with the overall plot of this series.  Giffen as the guest writer displays his usual knack for witty dialogue and sarcasm, and writes an enjoyable exploration into DC's history.  I was a little confused at to why there was a dilemma involving space flight happening too soon.  I would guess we are supposed to assume Force X would have stopped the plot without Booster's help, and as he realizes this decides to tag along anyways.  An enjoyable read, but should be treated as a one-shot.  Olliffe's artwork fits in well with the rest of the series, not really appearing too far off from Jurgens regular duties on the book. I really liked the artwork done for this cover!
Story: 8 – Writing: 8.5 – Art: 8.5 – Cover: 9
Overall: 8.5

---