Jun 12, 2009 by
Chip Reece
Comments Off

on Deadpool #11
Posted In:
Reviews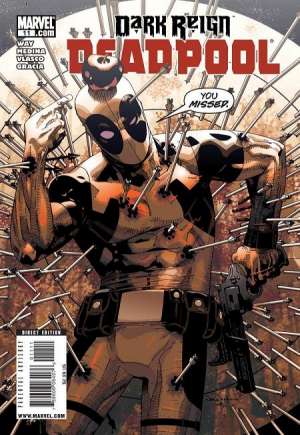 Marvel Comics – August 2009 – $2.99 – 32 pgs – Color
Writer: Daniel Way – Artist: Paco Medina – Cover: Jason Pearson
Synopsis:  Deadpool wakes up dazed with an arrow through his head, and Bullseye discussing how to completely dispose of him with a butcher.  Deadpool quickly gets himself together and eventually goes fist to fist against Bullseye wearing armor made of pig meat.  Advantage….Deadpool!
Review:  First of all…if you take this book seriously you will hate it.  Deadpool continues to provide an easy laugh or two, while also giving us some great action sequences and a fun story.  Using the frozen meat as armor was a good stroke of genius, and at the same time super hilarious!  Last two issues (especially this one) have been filled almost entirely with the fighting between Bullseye and Deadpool.  As enjoyable as that has been I'm hoping Way begins to move the story along next issue!
Story: 8 – Writing: 9 – Art: 8.5 – Cover: 8.5
Overall: 8.5

---
Comments are closed.