Sep 23, 2006 by
Alan Pettit
Comments Off
Posted In:
Reviews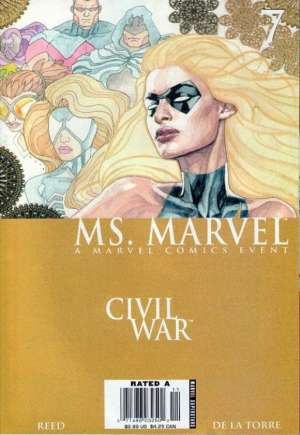 "Battle Lines, Part 2″
Marvel Comics – November, 2006 – $2.99 – A – 32pg – Color
Writer: Brian Reed – Artist: Roberto De La Torre – Cover: David Mack
Arana sits at home on her rooftop wondering if the superheroes will come for her. Her father brings her a cake to celebrate her birthday early, when the exact thing she fears happens, Ms. Marvel and Wonder Man are floating in the air above. They take her and her father to a S.H.I.E.L.D.

facility. Her father thinks they are being held prisoner, but Ms. Marvel takes him to where Arana has already begun training. However, her father did not know about her powers, so she is forced to tell him. He refuses that she be put under the employ of the government as a hero, but she refuses to listen to him and agrees.
Having escaped, and now stolen some clothes and a car, Arachne and the Shroud are making their getaway. Shroud wants to head to Canada, but Julia will not go without her daughter, all the way in Colorado. They were reported for stealing the car, so now Ms. Marvel and Wonder Man set off to apprehend them, Arana coming along to watch for training. They intercept the car, Ms. Marvel being slammed into a guardrail while Wonder Man pulls Shroud out and the capekillers put him down. Finally, Ms. Marvel punches off a wheel, sending the car into a tumble. She tries to grab it, but it's going too fast. Wonder Man helps, but in the confusion, they miss that Arachne has slipped out the window and got away.
Well, this issue was a lot better than the first Ms. Marvel tie-in, but still nothing amazing. It's nice to see the effect of the Act on a minor finally (what with the Young Avengers and Runaways just hanging out in Cali with each other). Basically the only difference appears to be the ability to live at home with your parents while you're not training.
Writing: 7.0 – Story: 6.5 – Art: 7.0 – Cover: 5.5
Overall: 6.50

---
Comments are closed.