Feb 17, 2007 by
Alan Pettit
Comments Off
Posted In:
Reviews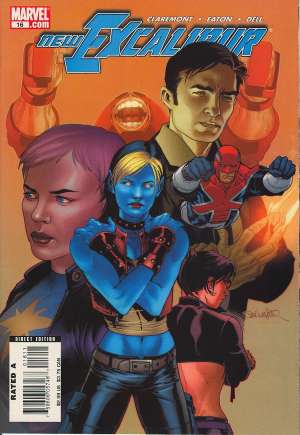 "Fallen Friend, Part 1″
Marvel Comics – April, 2007 – $2.99 – 32pg – Color – Rated A
Writer: Chris Claremont – Artist: Scot Eaton – Cover Art: Salvador Larocca
New Excalibur breaks up a bank robbery, though in the process Dazzler gets shot and killed. Shortly after, she wakes up and is perfectly fine, making this the third time she has done this. They go to the hospital to run some more tests on her, all of which come back normal. However, while they are there, Nocturne complains of a pain in her head and falls unconscious, suffering from a stroke. She wakes up, but is unable to move her left side, nor is she able to remember the names of any of her teammates or speak out loud.
Well, Chris Claremont is back, been a few months since we've seen his name on a comic. I'm glad that he is alright physically, but I fear that his writing has suffered from whatever ailed him for these past few months. I understand this is a very "personal" tale for him, but I sincerely doubt that any reader wants to see one of their favorite characters be killed off by a mere stroke. Sure, in the real world people have strokes, but these are comics, and superheroes are supposed to die a heroic death, not like this.
Also, new artist Scot Eaton seems to have ignored the past 15 issues of the book, where Nocturne has been a young girl with light blue skin and cropped black hair with a blonde streak in the front (you know, like the cover of the issue), instead deciding to have her look much older, with longer, braided hair and darker blue skin. I don't like his art in the first place, and screwing up something this simple makes it even worse.
Good cover by Larocca, though his art is always good.
Writing: 5.5 – Story: 2.5 – Art: 6.0 – Cover: 8.0
Overall: 5.50

---
Comments are closed.