Mar 2, 2007 by
Alan Pettit
Comments Off

on Punisher: War Journal #4
Posted In:
Reviews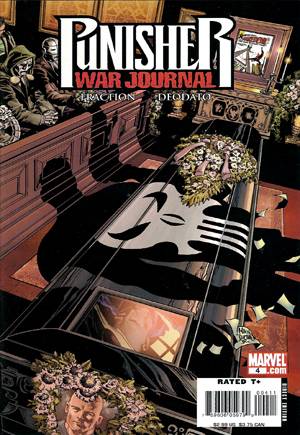 "Small Wake for a Tall Man"
Marvel Comics – April, 2007 – $2.99 – 32pg – Color – Rated T+
Writer: Matt Fraction – Artist: Mike Deodato, Jr. – Cover Art: Mike Deodato, Jr.
With the recent death (aka killing) of Stilt-Man (Wilbur Day), the super-villain community holds his wake at a bar, him laid out across two pool tables. A veritable who's who of C and D-list villains are there to mourn the loss. They begin to tell stories and remember the glory days when it was all bank heists and fights, but no one ever really got hurt. Wilbur was apparently married to Princess Python, who doesn't seem all that upset about his death, probably because she's kind of a slut.
After a while, a fight breaks out between the Rhino and Armadillo, but the villains seem to actually be enjoying the simplicity of it all. Soon, Spider-Man shows up and gives them a lecture, telling them all to be careful because he doesn't want to go to anymore wakes. They are all dumbfounded for a moment, then get riled up and begin to pander for a recoming of their glory days, but they realize suddenly that many of their friends have begun to throw up, and it's not just because they are drunk. There is also a lot of blood coming up, which is when they realize that their bartender is gone, a fake moustache and a small Punisher skull drawn on a bar napking the only thing left. Outside, the Punisher walks away as the bar explodes behind him.
Really good issue. It's always nice to see what the villains feel in a given situation. They're all friends and normal dudes, just trying to make a living as best they know how, mourning the loss of one of their own when it goes wrong. On the other hand, the Punisher poisoning and blowing up and entire bar full of villains was equally awesome. Be interesting to see how many of the villains actually died though. I doubt very many.
Writing: 8.5 – Story: 8.0 – Art: 8.5 – Cover: 8.5
Overall: 8.375

---
Comments are closed.