Jun 2, 2009 by
Chip Reece
Comments Off
Posted In:
Reviews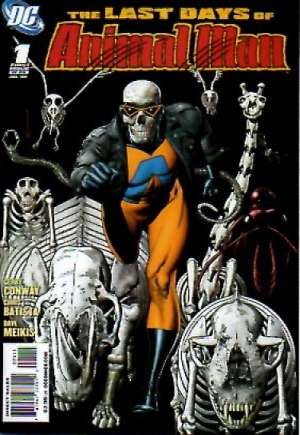 DC Comics – July 2009 – $2.99 – 32 pgs – Color
Writer: Gerry Conway – Artist: Chris Batista – Cover: Brian Bolland
Synopsis:  This story takes place in the future (2024), and focuses on Animal Man (Buddy Baker) struggling with the possible loss of his powers.  He battles a new villain, Bloodrage, and struggles due to his powers fading in and out.  Buddy appears to be having a hard time in his marriage, as evidenced by a strained conversation with his wife on the topic of his power issues.  Things are left unresolved between them as Buddy walks out on the conversation, and again must confront Bloodrage upon hearing of his escape from captivity.
Review:  Not a bad start to this story, but I'm curious why such an obscure character gets a series dedicated to telling his possible future.  I picked this up because I actually happen to like Animal Man, and noticed Bolland (cover artist for the original ongoing series) had done the honors for this issue's cover.  The idea for the story (exploring the loss of powers)  is not a unique story idea, but I'm interested to see how it applies to Animal Man.  I like that someone is giving attention to a minor character, and hoping it turns out to be a good story!  Artwork looked great, and I enjoyed the look and unique power of the new villain.  Kind of like a Vampire, but instead absorbs blood to sustain his power level and increase his "rage."  Love the cover homage to the #1 of the original ongoing that Bolland did.
Story: 8 – Writing: 8 – Art: 8.5 – Cover: 9
Overall: 8.38

---
Comments are closed.