Mar 23, 2007 by
Alan Pettit
Comments Off

on Thunderbolts #112 (The Initiative tie-in)
Posted In:
Reviews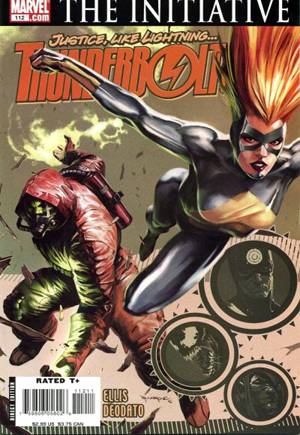 "Faith in Monsters, Part 3"
Marvel Comics – May, 2007 – $2.99 – 32pg – Color – Rated T+
Writer: Warren Ellis – Artist: Mike Deodato, Jr. – Cover: Marko Djurdjevic
After being humiliated by Jack Flag, the team gets a stern talking to from their overseer, Norman Osborn. Moonstone thinks it was a good thing, because now the American people will see that unregistered heroes are a threat, moreso than if they had just taken him down quickly. Songbird disagrees, and also thinks that she should be leader, because the team has no cohesion.
Radioactive Man requests a meeting with Osborn, concerned with his suit. He doesn't appreciate having to wear it, but popular opinion is clear that the people don't like a Chinese man beating up American superheroes (though the Chinese government doesn't quite mind). For now, the suit stays.
Osborn then meets with Mac Gargan, the old Scorpion and the new Venom, who explains that he doesn't know how he could have gone on this long without the feeling the Venom suit gives him. Cold on the inside, but warm on the outside. Inside Bullseye's cell, he spouts a rant about how killing makes him feel like God, to which Osborn responds with the removal of bathroom privileges.
On a Navajo Reservation, the American Eagle sits staring at his old costume, wondering what to do. His friend tries to talk him out of it, pointing out the first to die in this war was the "biggest black man" in the world, and having his skin color wouldn't help either. However, he decides they can shove their registration business where it belongs. Elsewhere, the Steel Spider continues his patrol of the night, foiling a bank robbery. However, at that same moment Norman Osborn has selected the next target for his Thunderbolts… the Steel Spider!
---
This title continues to be amazing. I love the satire that Ellis puts into the title. I think he secretly wishes he was still writing Transmetropolitan, and it really shows in the TV commercials he puts in between segments (I loved the "Who Wants to be a Superhero?" spoof with Stan Lee). His portrayal of Osborn's obsession with Spider-Man and how utterly insane he is is also great.
Writing: 10 – Story: 9.0 – Art: 8.5 – Cover: 8.5
Overall: 9.0

---
Comments are closed.