Jun 21, 2008 by
Alan Pettit
Comments Off
Posted In:
Reviews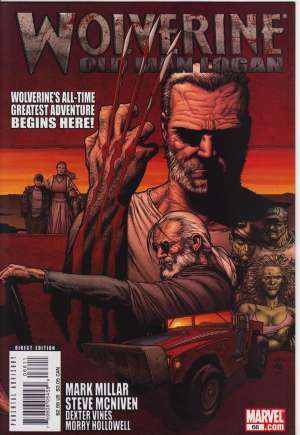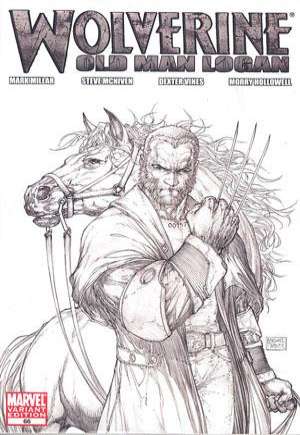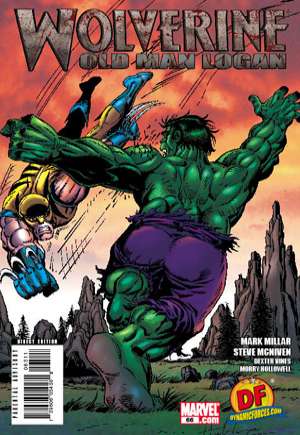 Normal McNiven Cover, 1:50 Michael Turner Cover, 1:100 Sketch Cover, Dynamic Forces Herb Trimpe Cover
My apologies that I could not find a Turner variant with the logos.
Marvel Comics – August, 2008 – $2.99 – 32pg – Color
Writer: Mark Millar – Artist: Steve McNiven – Cover: Steve McNiven
"Old Man Logan, Part 1″
For some reason Marvel has been hyping this story for a while now. Obviously, since they threw a bunch of variant covers at it. I didn't understand the point. Why tell a story set in the future inside the main series? Shouldn't this be for current events? I would have even preferred a Secret Invasion tie-in to this. But, being my second favorite character and never having missed an issue of this series, I got it anyway.
The heroes have been defeated and the major villains split up the world. The man previously known as Wolverine has not popped his claws in ages, instead settling down with a wife and two kids on what used to be a farm, now just a desolate plot of cracked earth. They haven't made any money in a while and the rent it due soon to their landlords: Bruce Banner's grandchildren, the Hulk gang. They come calling the following day in the Fanasticar, "Dead and 4-Gotten" written on the side. Logan envisions himself losing control and gutting one of the Banners, but instead stands still as the two brothers beat him in front of his family.  They demand double rent the following month and leave.
In bed that night healing, he is visited by Hawkeye, now old and blind. He says they have a job delivering a package to the east coast. After a tearful goodbye with his family the next morning, they set off in a souped up version of the Spider-Mobile, ready to trek across what is now known as "Hulkland," "The Kingdom of the Kigpin, " "Doom's Lair," and "The President's Quarter" for a city called New Babylon.
---
It's hard to go wrong with Millar and McNiven, and despite not caring about this story, I at least found myself enjoying it. Millar paints a very vivid idea of what the world is like now (complete with a map of the U.S.) and McNiven's art is always easy on the eyes. I still can't see much point spending eight months on a story that will technically never happen (being a future story and all), but at least it should be a good read.
Story: 8.0 – Writing: 8.5 – Art: 9.0 – Cover: 8.0
Overall: 8.4
(Note: cover score only on the McNiven normal cover. That Trimpe cover is one of the worst things I've seen in a while and really would have killed the score if I judged it.)

---
Comments are closed.