Feb 8, 2007 by
Alan Pettit
Comments Off
Posted In:
Reviews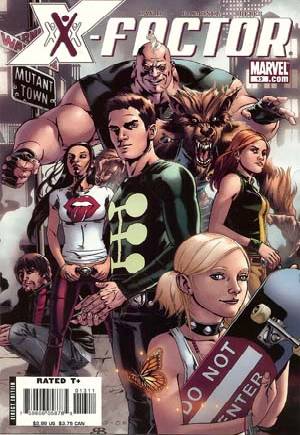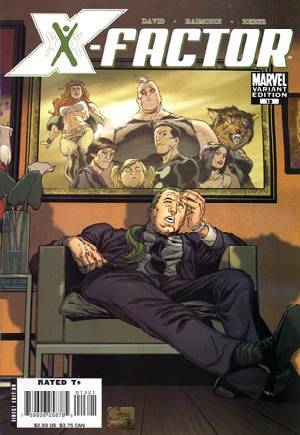 "Re-X-Aminations"
Marvel Comics – January, 2007 – $2.99 – 32pg – Color – Rated T+
Writer: Peter David – Artist: Pablo Raimondi – Cover A: Pablo Raimondi – Cover B: Joe Quesada
The whole issue is a series of conversations between Doc Samson and the members of X-Factor, as follows:
Guido is worried that because he killed a man under hypnosis and you are supposedly not able to do anything under hypnosis that you feel is wrong, that he is a killer. Layla feels that she is a pawn in a larger game than the rest of the team. Rictor is still messed up over losing his powers. Theresa is still in denial about her father's death, thinking he is just hiding from enemies and will be back soon. Monet comes to terms with Banshee's death, even though Siryn can't. She also confides that the only thing that makes her happy is her relationship with Madrox. Samson convinces Madrox that he should tell both Monet and Theresa that he slept with both of them (or a dupe did, or a combination of both). And Rahne can't decide if she's a girl who turns into a beast, or a beast that turns into a girl.
Samson also talks to Quicksilver, who does not miss his old powers and does not think that he is doing anything wrong by giving people twisted version of their old powers. Walking by the X-Factor office, reviewing his tapes, Madrox is thrown out a window and lands directly on the Doc, thanking him for the advice to tell the girls he slept with them both.
I never read the original issue, but apparently #87 of the first X-Factor series was the same premise as this: the team talks to Doc Samson about all their problems. Marvel called it a jumping-on point, I call it a throwaway. But, I suppose that's a bit harsh. It was a decent issue, had some good insight into the character's minds, but really, nothing to advance the story. It simply looks back on the first year of X-Factor books and sees how the team feels about it all.
Writing: 8.0 – Story: 7.0 – Art: 6.5 – Cover A: 8.5 – Cover B: 7.0
Overall: 7.60
Tags:
Banshee
,
Joe Quesada
,
Madrox
,
marvel
,
Monet
,
Pablo Raimondi
,
Peter David
,
Rahne
,
Re-X-Aminations
,
Rictor
,
Siryn
,
Theresa
,
X-Factor
---
Comments are closed.