Jun 23, 2009 by
Chip Reece
2 Comments
Posted In:
Reviews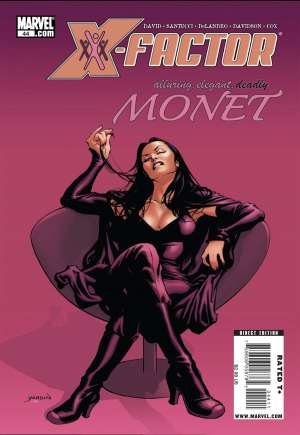 Marvel Comics – August 2009 – $2.99 – 32 pgs – Color
Writer: Peter David – Artists: Valentine De Landro/Marco Santucci – Cover: David Yardin
Synopsis:  The plot thickens in the future as Madrox takes Cyclops up on his "challenge" to put his investigative skills to work and make up for future Madrox's past mistakes.  In present time something seems to be "off" with Monet, when she at first tries to strangle Longshot, and then makes advances toward Darwin.  The team appears to be caught up in something calling itself "Cortex."
Review:  X-Factor continues it's streak of hotness with another fine issue!  David touches just enough on the future story to keep us salivating, while at the same time building on an increasingly intriguing plot involving the rest of the team.  One could be upset if this were a lesser performance by a mediocre writer due to the slow development of the story, but because of David's masterful work on these characters and all the little moments in between you won't feel a bit disappointed.  I was especially impressed by the extra time spent on Darwin this issue.  In my opinion he is a great character with a very unique set of powers that should not be thrown by the wayside.  David's work on the character is making him more significant, and interesting…something he is very talented at doing.  The art and cover this go around was all very A+.  The look the artist came up with for Darwin is my favorite so far with that character.  My only critique is that the panels with distance become a little lower quality, and chunky.  Also, I can't believe the same artist who did such a crappy cover last time came up with this masterpiece!  Reminds me of Cassaday's work.
Story: 10 – Writing: 10 – Art: 9.5 – Cover: 10
Overall: 9.875

---