Groupie

Joined: 11 July 2012
Location: United States
Posts: 43

My Public Stash
My Public Wish List
Hello, I'm a newcomer to the site. I thought I would share this solution I came up with.

For years, I have only bought paperback and hardcover collections and stored them on my bookshelf. But the New 52 and Valiant reboot have me purchasing single issues for the first time in 15 years! I have always thought the white cardboard boxes were ugly and hard find a spot for. I saw some nicer comic-specific storage solutions online at $30+ a box. I wanted something cheaper so got this:




I found some examples of people putting a divider in a legal-size file cabinet. So this gave me the idea to use a legal-size plastic filing box.




I got this Sterilite-brand box from Fred Meyer's for $8.99. I am pretty sure Wal-Mart and Target carry Sterilite products as well.

Then I cut up a $2.99 piece of foam board with a knife. The inner depth is 12 inches, so I started with that. Then I shaved about 2mm off the edge and it made a nice tight fit. Next I secured it with some packing tape.

I have enough foam board left for 1 or 2 more dividers if I needed it.




And here's a picture of the box closed:




I have 2 rows of 12 inches each, so this will hold a little bit less than a 27" long box. I think it's probably easier to use and carry than a standard cardboard box. As you can see, the bagged/boarded books fit perfectly. The height is perfect and it is stackable as well. I don't know if it's acid-free or suitable for archiving valuable stuff. It is made for the purpose of storing paper so I would hope it's not too toxic. But there's nothing on the label about it. It does seem like it would be more protective against the elements than a cardboard box.

This may not appeal to folks with thousands of books but it's a nice affordable supplement to my limited collection.


__________________
Just to be safe, until I see more data I'm going to assume cancer causes cell phones.
Senior Member

Joined: 12 June 2011
Location: United States
Posts: 482

My Public Stash
Is it ventilated? Or do you keep the lid cracked just a
bit? If there is a little toxic bleed off from the
plastic (living in a hot area without A/C might cause
this), you might want to clear the air in there
periodically.

If it's in a well lit room you might want to blacken the
lid, preventing any UV light from getting thru.

Pretty cool idea. At the moment I'm using the box/case
from some baby wipe brand my wife uses for our grandson.
For some reason there are two different sized boxes, and
the taller one is perfect for about 100 books. They just
looks silly stacked with rest of my collection. Your idea
looks real sleek


Let us know what happens when it's full.

__________________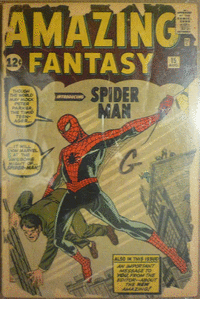 http://picasion.com/
Groupie

Joined: 11 July 2012
Location: United States
Posts: 43

My Public Stash
My Public Wish List
Thanks for the welcome.
I'm not too worried about ventilation. I'm keeping the lid unlatched and will probably be opening it fairly frequently. It's in a pretty dim area of the house with no windows around. I'm also planning to completely plaster the top with stickers :-)

I checked the Sterilite website. The only info it had was that its see-through products were acid-free and good for archiving. The recycling codes on the box and the lid are both polypropylene, which is what my comics bags are made of. So it's probably fairly good for this purpose. I suppose it's possible the black dye could be a problem. But again, this was marketed for storage of "documents, tax records, bills and more." So I'm going to assume it's not too harmful for paper products.

I'm not sure what I'll do when it's full. I may stack a second one on top, or I may get rid of some crappy ones at a garage sale, or I may get a cardboard box to stick in a closet.


__________________
Just to be safe, until I see more data I'm going to assume cancer causes cell phones.