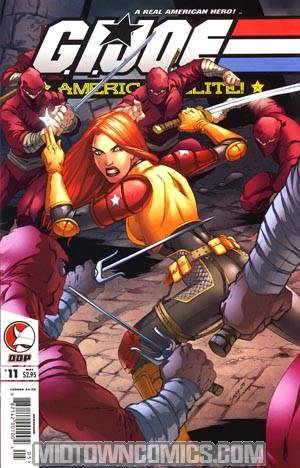 "Reuinted"Devil's Due Publishing - May, 2006 - $2.95 - Color
Writer: Joe Casey - Art: Nelson Blake II, Pat Quinn - Cover: Tim Seely
This issue begins with the Joes plotting to follow Snake-Eyes' signal thatappeared last issue, after nearly 72 hours of Scarlet staying awake towatch it. For those of you unawares, Snake-Eyes was killed and his bodywas promptly stolen by the Red Ninja Clan, who resurrected him. As theynear the signal, their helicopter is shot down by the Red Ninjas.Miraculously (or not so miraculously, in the comic way), no one isbadly injured and a fight with the Clan ensues. T'jbang seems to haveturned on the Joes, leading his Clan in battle against them. Half theJoes are captured and imprisoned, while the rest fall into a tunnel andtry to infiltrate the base and free them. They are attacked bySnake-Eyes (in his shiny new red outfit) and Kamakura (Snake-Eyes'apprentice) is stabbed. The issue ends with a tense face-off betweenSnake-Eyes and Storm Shadow.
I'm really enjoying this series,but the pace of it seems to be off a bit. A TON of stuff is happening,but it seems to fly right by, with no reflection whatsoever on any ofit. The characterization scenes seems forced and squished inside allthe action. Otherwise, a great read every month.
Writing: 7.5 - Story: 9 - Art: 8 - Cover: 7
Overall: 7.875
Continue Reading »