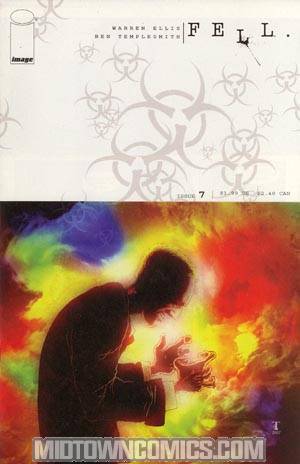 Image Comics - January, 2007 - $1.99 - 24pg - Color
Writer: Warren Ellis - Artist: Ben Templesmith - Cover Art: Ben Templesmith
Fell has a deposition with a young man, his lawyer and an old friend from the city who has been assigned as the Prosecutor. Fell does all the talking, explaining how the man broke into a shipyard to steal some government-created drugs that make the person hallucinate and basically go insane. He also explains of the young girl who embarresed him, who he murdered after the theft went sour, and was forced to shoot a few security guards, and finally how he sat naked in her apartment for three days while she was cut up in the bath tub.
However, because he was so thorough, the defense lawyer had enough to spin the case in his favor. His client only went to the shipyard because of personal distress brought on by the girl, and he only murdered her after because he was exposed to the drugs, through the actions of the security guards who shot the box he was holding. The best they can get him on now is two years for attempted burglary, since they have no evidence of him holding or firing a gun, and the murder charge will be written off by "accidental intoxication."
Wait... I waited five months for THAT!? One single interrogation scene, and he didn't even hit the guy. I've loved the portrayal of just how crappy the legal system can be in this book, but this was basically a bust. It was horrific the things he did to the girl, and the fact he gets away with it sucks, but I've expected more from the book, especially after such a long delay. Not to mention, there was no interviews, letters or anything at the end that we've come to expect, but instead a preview for the comic "Casanova."
Writing: 7.0 - Story: 5.5 - Art: 8.0 - Cover: 7.0
Overall: 6.875
Continue Reading »