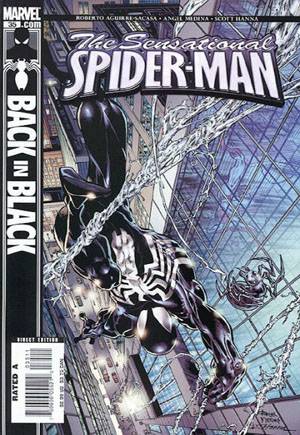 "The Strange Case of..., Part 1"
Marvel Comics - April, 2007 - $2.99 - 32pg - Color - Rated A
Writer: Roberto Aguirre-Sacasa - Artist: Angel Medina - Cover Art: Angel Medina
A thug is attempting to break into a building from the roof, but Spider-Man intervenes. However, it turns out that the thug is actually a cop in part of a sting set to arrest Spidey, and Spidey himself is actually a boy named Ethan Myers in a Spider-Man costume. At the prison, Ethan explains that a man offered him the chance to be Spider-Man, somehow changing him and making him able to do the things that Peter can do.
That night, the real Spider-Man visits the boy in jail, only to find him curled up and writhing in pain on his cot. He breaks through the wall to find some kind of organism growing out from inside the boy. He takes him and calls Mr. Fantastic to take the boy and figure out what is wrong with him. He also takes a sample of the organism to Dr. Conners (aka the Lizard) for testing.
Across town, yet another fake Spider-Man is seen slinging across the city, only to come up short on a swing, plummeting to his head. We then find that the mystery scientists giving these boys their powers is none other than Mr. Hyde...
Mr. Hyde? Really? Ok, I'll play along. An interesting story, but an odd choice of villain for this story. This has actually been my favorite Spider-title, from the writing to the art, so this is a bit of a letdown, but we'll see where it goes. It does have potential, but it could easily be boring.
Writing: 7.5 - Story: 7.0 - Art: 7.5 - Cover: 8.5
Overall: 7.625
Continue Reading »