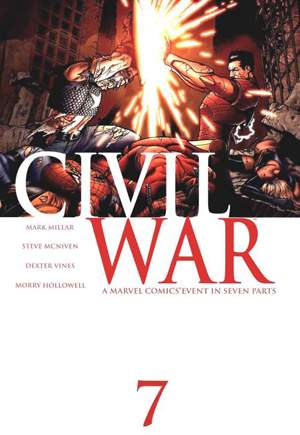 Marvel Comics - January, 2007 - $2.99 - 38pg - Color - Rated T+
Writer: Mark Millar - Artist: Steve McNiven - Cover Art: Steve McNiven
With the two sides finally gathered, everyone picks a partner to dance with, a full-scale war ensuing. S.H.I.E.L.D. attempts to close all the portals out of the Negative Zone to keep the fight contained, but before they can, Cloak teleports everyone to the streets of New York (or more specifically, the air above NY, which causes a small cease-fire, as all the flyers grab someone that would otherwise fall to their death).
The NYPD does their best to get civilians out of the way as Cap is overwhelmed by members (aka villains) of the new Thunderbolts squad. Fashionably late, Namor shows up with his Imperial Guard to aid Cap and his forces. Vision disrupts Iron Man's armor to take him out of the fight, as Thing returns from France to help out. Cornered, the Invisible Woman fights off a few attackers, but is almost shot from behind by Taskmaster, only saved by her husband, who jumps in front of the bullet. (Needless to say, she flattens ol' Taskie with a force field.)
Hercules faces off against the Thor clone, taking his hammer and smashing his head in with it, while Cap beats Iron Man to a pulp. Suddenly, a group of NY citizens overwhelms Cap, forcing him to take a look around at all the damage they have done during this battle. He suddenly realizes that they are no longer fighting for who is right, but simply fighting. He decides to surrender, taking off his mask (which the Punisher picks up), and turning himself over to the police, not as Captain America, but as Steve Rogers.
In the days following, The Initiative is set into place, putting a super-powered team in place in every city. The New Avengers are reformed, as Spider-Man returns to his old black suit (minus the Venom symbiote, of course). Tony Stark is now appointed Director of S.H.I.E.L.D., him thinking there is no one else qualified to safe keep his "friend's" identities.
So, pretty much how I thought the series would end. I mean, a law is a law, no amount of fighting would change the lawmaker's minds about that. Fighting for what you believe in can only go so far, and clearly Cap found that he crossed that line. This event was overall a good read, but somewhat of a letdown, as I think the most it will really serve is a launching of tons of different titles and mini-series. (For instance: Namor, the Champions, Omega Flight, Mighty Avengers, etc...)
I think if this went the other way, it would have had a more positive effect on the Marvel U, but I guess giving a little more controversy and adversary to our heroes might not be a bad thing after all. We can only see in the months to come, and no doubt there will be great stories no matter what.
Writing: 8.0 - Story: 7.5 - Art: 8.5 - Cover: 8.0
Overall: 8.0
Continue Reading »