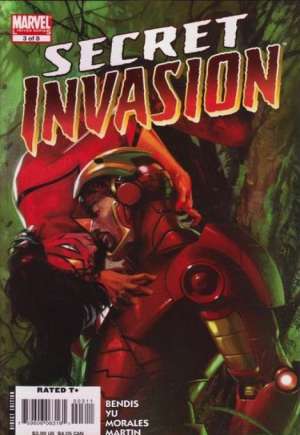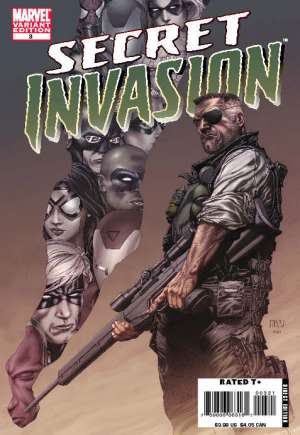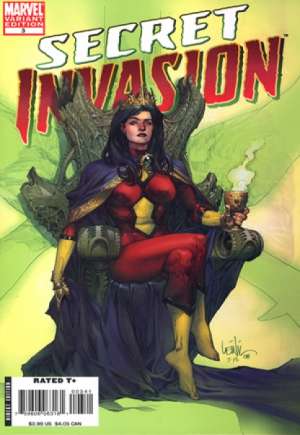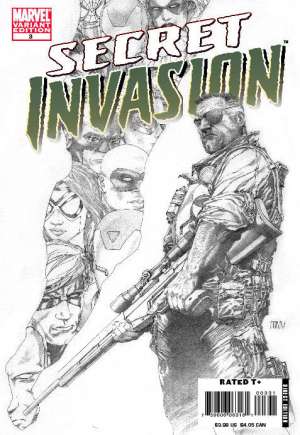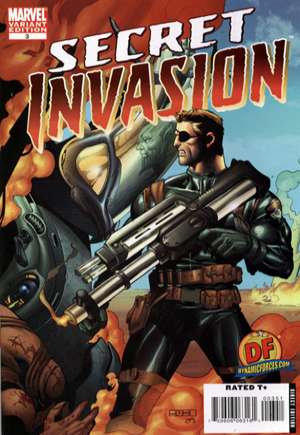 Normal Dell'Otto cover; 1:19 Steve McNiven cover; 1:50 Yu cover; 1:75 McNiven Sketch cover; Dynamic Forces Exclusive Mel Rubi cover.
Marvel Comics - August, 2008 - $3.99 - 40pg - Color
Writer: Brian Michael Bendis - Artist: Leinil Francis Yu - Cover: Gabrielle Dell'Otto
This issue kicks off on the S.H.I.E.L.D. hellicarrier that has fallen from the sky and is now floating in the ocean. Maria Hill orders her troops to the deck where the Jarvis Skrull is waiting and asks for their full and total surrender. At Thunderbolts mountain, Captain Marvel (a revealed Skrull who seemingly has denied his race's plan) stands ready to kill Swordsman, but Norman Osborn interrupts saying that he knows he can't do it and he'd like to discuss the situation. At Camp Hammond, the Initiative faculty is heading out to fight the Skrull armada that has landed in NYC, their recruits insisting they are allowed to help. The Skrull Yellowjacket shows up and gives them permission.
In NYC, the Young Avengers do their best to fight off the Skrull armada and protect civilians, but it appears they are going to lose this battle. Hulkling attempts to talk to the Skrulls, figuring since he is half-Skrull they might listen. He was wrong and gets attacked by four Skrulls at once while Wiccan receives a clobbering at the hands of a skyscrapers-sized Skrull. Just then, the whole of the Initiative show up, Gauntlet punching a hole into the skyscraper-Skrull's head.
Back in the Savage Land, the Spider-Woman Skrull (the Skrull Queen, in fact) faces off against Echo and knocks her into a tree, leaving her behind, unconscious. She then finds Iron Man at the Mutate compound, telling him that he has done his job wonderfully. She says they had to keep his role secret (even to him), but the Civil War and everything he had done has served the Skrulls perfectly. She kisses him and calls him Kr'Ali, but the entire time he denies what she is saying. A close-up of his eyes reveal a perfect hue of blue. Every other Skrull has seemingly had their eyes turn green.
Back in NYC, a different skyscraper-Skrull (at least I'm assuming it's different since he has no hole in his head and no chipped teeth from Gauntlet's punch) throws Stature across the city. That same Skrull then appears on a large screen and says something, causing all the Skrull warriors to raise their fists and repeat after him. They then unleash a large purple beam attack on every hero in the vacinity, so severe that it causes Young Avenger Vision's head to explode. A Skrull also gets more personal, grabbing Initiative cadet Proton and snapping his neck. Suddenly, the ground begins to rumble and one of the Skrull's hearts explode.... Nick Fury and his Commandos have arrived!
---
I was afraid this series would lag a bit in the middle like Civil War did, but Bendis is doing a fantastic job. Tons of action, deaths, reveals... great story-telling. I think we could have done without Proton's neck being snapped, but I guess it was dramatic and showed the Skrull's lethality and commitment to wiping out Earth. I really think the Skrull Queen is just messing with Tony. It would be too big of a cop-out for him to be a Skrull, but since everyone is saying that, Bendis might just do it to shock everyone into saying "wow, he really made Iron Man a Skrull..."
I liked the new Commandos (though I hope they leave off the "Howling" part, as that is stupid) and it should be interesting to see how their powers hold up in battle. Obviously Daisy can hold her own with the earthquakes, but will Alexander's fear power work on the Skrulls? What power does the big, bald dude even have? I hope his is seriously cool since Bendis chose to keep it secret. All in all a great issue and this series continues to be a fun, enjoyable read.
Writing: 9.0 - Story: 10.0 - Art: 8.5 - Cover: 9.0
Overall: 9.1
Continue Reading »