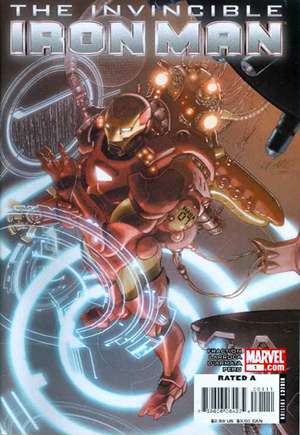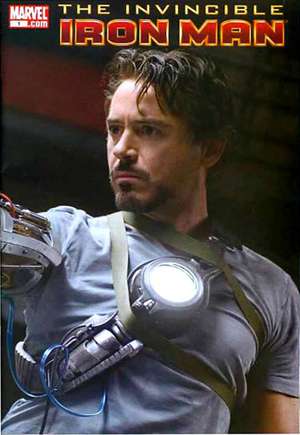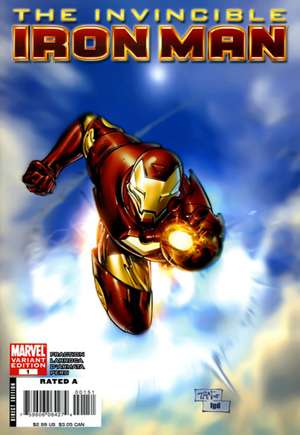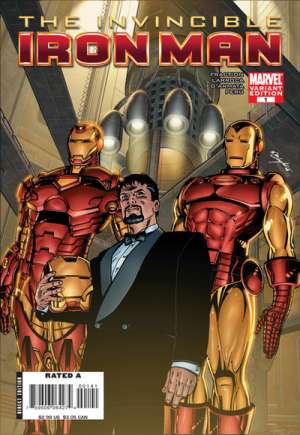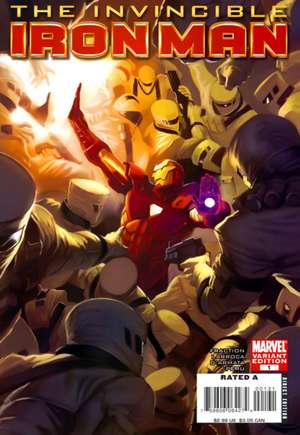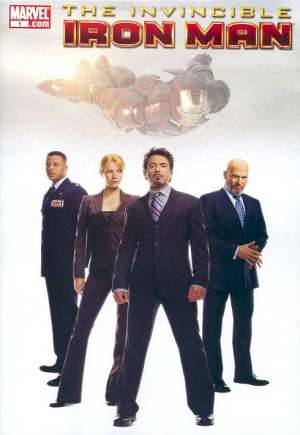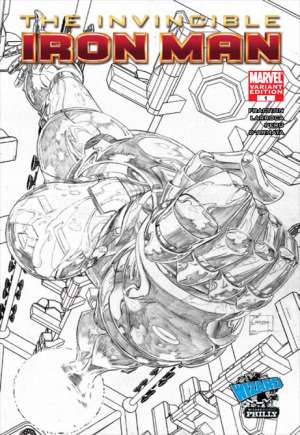 That's right, an amazing 8 different covers debuted for this new series on the heels of the blockbuster movie. Three covers shipped normal: Salvador Larroca, Joe Quesada and a Movie cover. Three covers came in a 1:25 ratio: Billy Tan, Bob Layton and Marko Djurdjevic. One Movie cover came in a 1:100 ratio and there was also a Wizard World Philly exclusive sketch variant of the Quesada cover. Insanity. There is also a 2nd printing on the way. So, was the issue worth all these covers?
Marvel Comics - July, 2008 - $2.99 - 32pg - Color
Writer: Matt Fraction - Artist: Salvador Larroca - Cover: Salvador Larroca
"The Five Nightmares, Part 1: Armageddon Days"
This new Iron Man series kicks off in Africa where a group of girls are excited that they now have a cell phone. The excitement doesn't last however, as a group of men with glowing hands and chests (much like our hero's Iron Man suit) explode themselves and take out the entire town. Meanwhile, Iron Man is in space doing repairs on a shuttle. Soon back on Earth, he has a rendezvous with a gorgeous, busty women that is cut short by his duties as Director of S.H.I.E.L.D. Maria Stark informs him of the situation in Africa and he insists he be involved in the cleanup.
Elsewhere, Ezekial Stane meets with a cigarette company he'd been doing some research for (to make cigarettes that would help the person lose weight while they smoked). He accomplished what they asked, but used the money they gave him to fund a little project: himself. He has effectively made himself into a living weapon. He then slaughters the entire board room for fun and jumps out the window, plumeting a number of stories, landing safely (though a bit hurt) below.
Tony consults a database of people who have had or do have access to Iron Man tech. None of them seem to have been involved with the incident in Africa, something that scares him very much. He believes Iron Man 2.0 is out there and he doesn't know who is controlling it or what they plan to do with it. Someone is giving it away to the masses, and the collateral damage is seemingly going to be huge.
---

I gotta be honest, I've never been a huge Iron Man fan. He's always been a good member of the Avengers, but solo I've never enjoyed him. The Extremis arc (from the still ongoing Iron Man series) was awesome, but from there it went downhill and I eventually stopped reading it. This has definitely brought me back into the fold. Matt Fraction is a great writer and Larroca's art has always been one of my favorites, though I much prefer his X-Men work to this. His Stark doesn't feel quite right, but Iron Man looks great and his women and his action scenes are very good.
Writing: 9.0 - Story: 8.5 - Art: 8.0 - Cover: 9.0
Overall: 8.6
Continue Reading »