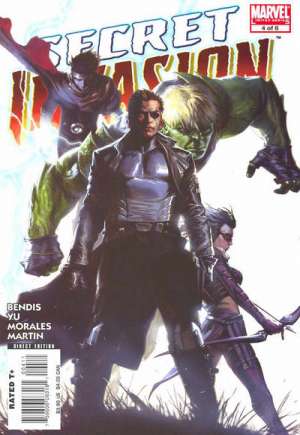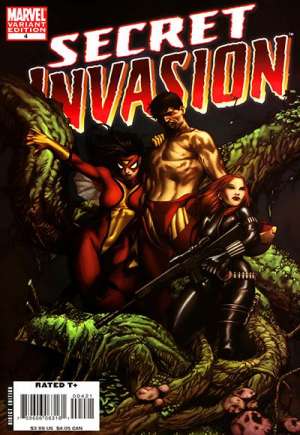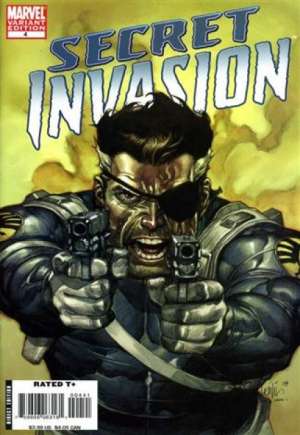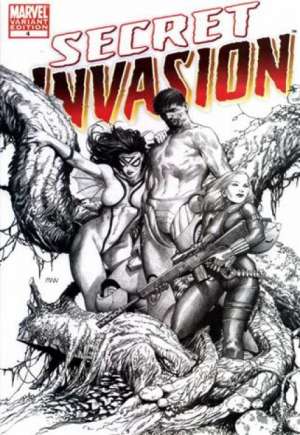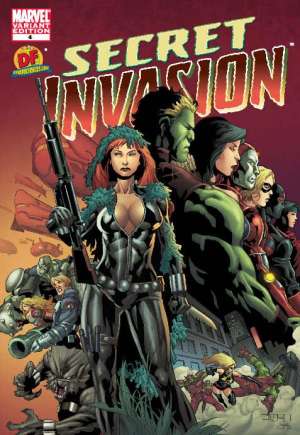 Normal Yu cover; 1:19 Steve McNiven Variant; 1:50 Yu Variant; 1:75 McNiven Sketch Variant; Dynamic Forces Esclusive Mel Rubi variant.
Marvel Comics - September, 2008 - $3.99 - 32pgs - Color
Writer: Brian Michael Bendis - Artist: Leinil Francise Yu
On what appears to be one of the Skrull armada ships, Mr. Fantastic has been stretched across an entire conference hall to be studied by various machines. Agent Brand is still floating around in space inside her gel life-support. The Sentry has breacher outer space, running from what he thinks is the Void, but is just a Skrull trick to take him out of the fight. Ms. Marvel, heading back to NYC on Iron Man's orders, is immediately attacked, landing smack in the middle of the giant fight from the end of #3 between the Skrulls and Earth's heroes, with Nick Fury and his Secret Warriors having just arrived.
The new Druid seems to have a good grasp of his magical abilities. Yo Yo runs fallen heroes out of harm's way. Phobos (Ares' son) and Hellfire (the original Ghost Rider's grandson) banter while taking down Skrulls. The previously unnamed bald guy has been dubed Stonewall by Daisy, a name he isn't too happy about. Diasy herself has received the codename Quake. Nick Fury barks orders and once the Secret Warriors have taken out a large amount of the Skrulls, decides to pull out. Before doing so, he uses the giant gun he was carrying to blast Ms. Marvel, assuming she is a Skrull. After they leave, she is overrun by the real Skrulls, a shrunken Hank Pym Skrull the last thing she sees (with her blue eyes, not green) before blacking out.
Back in the Savage Land, the Skrull Queen (in the form of Spider-Woman) continues to tell Iron Man he is a sleeper agent of the Skrull Empire. Black Widow listens in around a corner (her eyes have always been green) when she is approached by Phoenix and Beast. Without saying anything, she shoots them both a number of times. They die and revert to Skrull form. The Skrull Queen hears the shots and disappears before Natasha can kill her. Tony is convinced by now that he truly is a Skrull, but Natasha disagrees. She convinced him at the very least that he wants to kill the Skrulls, despite whichever side he may supposed to be on. Just then, Wolverine shows up and Natasha continues her "shoot first" philosophy until he says their code word, "carrot sticks." She apologizes while his body begins to heal. Tony then states that they need to find Reed Richards.
Back with Agent Brand, she has now floated inside a Skrull ship, seeing all the mayhem the Skrull invasion is causing. She begins to cry, but is interrupted by a number of Skrulls. Back with Maria Hill on the crashed (and now floating) S.H.I.E.L.D. hellicarrier, she refuses to surrender, but soon finds that all her agents were actually Skrulls, leaving her completely alone. In Brooklyn, the Hood is watching the carnage on television with some other villains. He decides that being a villain won't do any good if they world is destroyed, so he decides to round up the villains and go to work. Back at the NYC fight, Thor has shown up as a Captain America watches from afar... but which one?
---
When I first read this issue, I felt like nothing happened. Explaining it now for others, I see it was actually pretty packed with content. I liked the Secret Warriors working together, but I am disappointed that Stonewall's power is just hitting people, especially since Bendis made him a bit of a mystery when he was first introduced. Maybe there will be more revealed about him during the new ongoing series they are planning for that group. I liked the confirmation that this Beast was fake (they hinted that he may be real in the "Who Do You Trust?" one-shot). I LOVE that the villains will be getting involved, especially since the Hood will be leading them and he is a very cool character. I now see why Bendis threw in that last arc about him right before the Invasion tie-ins began. I can't wait to see which Cap this is though. If it is the one from the Savage Land, how did he get there so quickly and he is for real? If it is Bucky, all the better. Not a huge Thor fan and I feel like this was just like the Civil War "omg Thor" moment, but at least this time he should be the real deal.
Writing: 9.0 - Story: 9.0 - Art: 9.5 - Cover (A): 10
Overall: 9.4
Continue Reading »