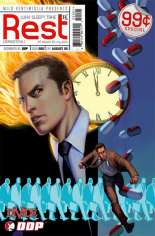 Devils Due Publishing - Aug, 2008 - $.99 - 24pgs. - Color
Writer: Mark Powers - Artist: Shawn McManus - Cover: Roger Robinson
Synopsis: John Barret is a man stuck in a routine life with a 9-5 job and nothing
special to speak of. However, an old friend of John's seeks him out to pull
him into the fold of a company that is testing a top secret drug that
eliminates your need for sleep.
Review: Although this issue is fairly shallow in it's development, the idea behind
the story drew me in and will most likely keep me hooked for a few issues
on the idea alone. Not much happens in the first issue besides a
flashback of John and his friend as college roomates, establishing them as
"old friends." Apparently there has been some rift between them as they
have not spoken or seen each other for some time. It ends with the
friend "accidentally" bumping into John and giving him his card, with the
intention of John calling to talk about the no-sleep drug. All of this is at
the chagrin of a shadowy figure in communication with the friend
"stalking" John.
I really hope that this turns into some solid storytelling and doesn't just
survive based on Milo Ventimiglia's (Peter from TV's Heroes) involvement.
I liked the flow of the dialogue, and it kept me wanting more as it never
really went into depth about the medication that eliminates sleep.
Basically all the issue managed to do was some minor character
introductions. All in all for $.99 you can't complain about the first issue,
which is just a jumping on point, and an introduction to the idea.
Scores:
Cover: 6.5- I love the cover format with the prescription incorporating
the barcode and issue information. The artwork itself is a little too busy
for me.
Art: 7.5-   The interior artwork is fairly nice...I'm not a big fan of the
"paint" style coloring, but this is okay. The style may need to grow on me
a little more.
Story: 6.5-Again the idea is very nice, but I didn't think issue #0
accomplished a whole lot. I won't rate it any lower because it is a starter
issue after all!
Continue Reading »