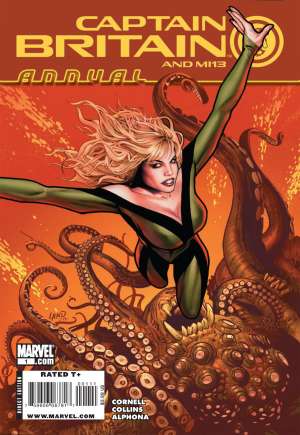 Marvel Comics - August 2009 - $3.99 - 40 pgs - Color
Writer: Paul Cornell - Art: Michael Collins/Adrian Alphona - Cover: Greg Land
Synopsis:  This annual serves to reintroduce us to Meggan, Captain Britain's long time love, and give us a glimpse into what she has been up to since going missing during House of M.  Meggan questions why she has not been in torment since being in hell, leading us to believe maybe she doesn't belong there.  She is granted a hearing with the Lords of Hell, who trick her into using her power of empathy to answer her question of whether she "deserves" to be in hell.  Due to Meggan's power of being affected by the environment around her, she is changed into a hideous monster, and cast into one of the areas of hell.  Because of this manipulation Meggan finally finds herself angry, and begins to influence other beings of hell around her to revolt against the lords of hell.  Meggan finds success and claims a portion of hell as a special sanctuary for souls to escape to.  After her adventures she begins to search for the source of hope that she had been feeling all during her stay in hell.  Eventually she comes upon a tear with moonlight shining through, and a familiar Marvel villain standing on the other side...
There is also a short story following that shows the MI13 team playing a game of Cricket, and pondering over what has the Captain so troubled.  Basically just shows us that Captain Britain has been thinking about Meggan all this time.
Review:  Well, an interesting way to "resurrect" a character that I don't believe has happened before.  I'm assuming they are trying to say Meggan never really died, and that is why she is able to come back.  Would be pretty silly if all anyone had to do to get back was find a tear in hell leading back to the regular Marvel U.  I thought Cornell did an excellent job of portraying this character and came up with a really clever story that brought out a lot of Meggan's personality/struggles.  I'm really hoping there is a good reason for bringing Meggan back.  I know she can be a good supporting character as she was in the old Excalibur series, but I would like to see her have a greater role in the current crisis (and beyond) the team is involved in.  Collins art was pretty good for the story, but I felt like the creatures were not very imaginative.
The short story served no purpose except to show us that Captain Britain misses Meggan.  It was really kinda pointless.  Alphona's artwork was pretty sharp, but extra cartoony.
Story: 8.5 - Writing: 9.5 - Art: 8 - Cover: 8.5
Overall:  8.63
Continue Reading »