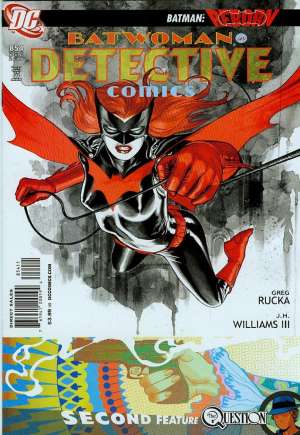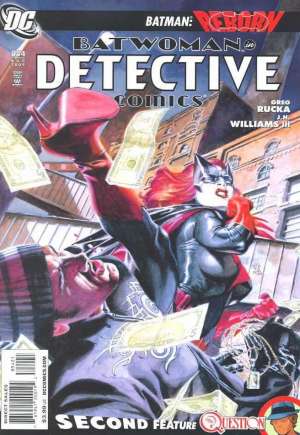 Regular Williams Cover                           J.G. Jones Variant
DC Comics - August 2009 - $3.99 - 32 pgs - Color
Writer: Greg Rucka - Artists: J.H. Williams III/Cully Hamner - Regular Cover: J.H. Williams III
Synopsis:  Batwoman finally gets her time in the spotlight as she takes over duties under the Detective Comics title following Bruce's "death."  If you followed the 52 series from a few years back, or the mini that followed that you will be familiar with the Religion of Crime that Batwoman refers to.  Apparently the cult has reorganized itself after a year and half, and Batwoman is doing some digging to get information on it's new leader.
Also in this issue you will find the Question as a part of the new Second Feature deal that DC is running in several of it's titles.  If you don't know the new Question is Renee Montoya, which also took place under the title 52.  Renee is just starting her investigation into the disappearance of some guys sister, and leaves us with a cliffhanger of her being surrounded by a gang of hoodlums.
Review:  This appears to be a strong start for Batwoman's first solo flight (well minus the Question's feature that is).  I like that they are keeping the Religion of Crime involved in her story as I can remember that being a part of the 52 series that I really enjoyed.  Batwoman was recently stabbed through the heart (for those of you who have not followed her character), and Rucka does not ignore this as a hinderance by having her dad/partner remind her she is limited by this injury even now.  William's art is stunning throughout the Batwoman portion of this book.  There is a two page spread that is simply one of the best interior works I've seen in a very long time.  The cover is nice, but I felt could have been better if the bottom 1/4th had not been on there.
The Question feature is a quick story, but very entertaining by itself.  I think the Question could become a great supporting character for a Batwoman solo series, but I'm not sure she would survive on her own at this point.  Hamner did the art duties on this portion of the issue.  I would have considered it pretty good, but compared to William's Batwoman stuff it is inferior.  Excellent overall, and I will definitely be picking up future issues!
Story: 9.5 - Writing: 10 - Art: 9.5 - Cover: 8.5
Overall: 9.375
Continue Reading »